Greetings on Ganesh Chaturthi to all of our readers. The festive season has begun, and in 2022 Ganesh Chaturthi will begin on August 31 and run for ten days as usual. This article includes 3 recipes for sweet treats that you may prepare on the occasion of Ganesh Chaturthi.
Ganesh Chaturthi

 

  
The Hindu celebration of Ganesh Chaturthi, also known as Vinayaka Chaturthi, commemorates the birth of Bhagwan Ganesha and lasts for ten days. One of the most important holidays in Maharashtra is this one.
We often look forward to the 10-day fiesta since that is when our pandal-hopping scenes take place. It has become customary to attend both the morning and evening Ganesh aartis at the enormous pandal in the neighbourhood.
Ganesh Chaturthi And Food  
Along with ceremonies food has always played a significant role in Indian festivals in general, not only Vinayaka Chaturthi or Ganesh Chaturthi. On the festival of Ganesh Chaturthi, the most popular sweet preparation is the Modak. In addition, numerous sweets and snacks are prepared on Ganesh Chaturthi. Make sure to ask your elders regarding the usage of ingredients like onion, garlic, spices, herbs, etc. before deciding on meals for Vinayaka Chaturthi. When it comes to religious fasting dishes, each group has its own restrictions on their use.
Use only fresh ingredients. This implies that you shouldn't utilise items that have been opened. Try to create all of your essentials at home, including ghee, butter, mawa, paneer, and flours made from grains and lentils.
Freshly prepared food is always served to Ganesha. Don't prepare meals ahead of time and store them in the refrigerator. As soon as the delicacies are ready, present them to Ganesha with dedication and prayer. Ganpati enjoys ladoo in addition to modaks. We thus give him a variety of ladoo throughout this festival.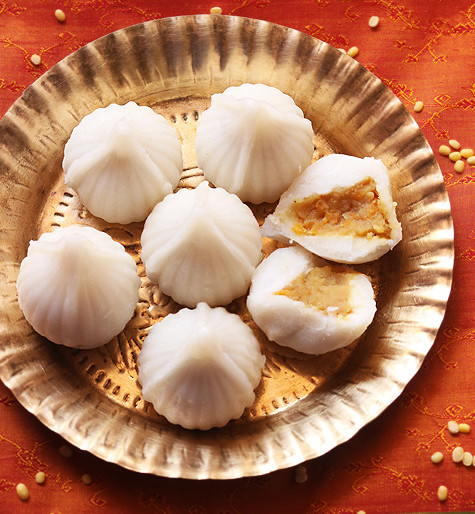 Carrot Moong Dal Modak is a sweet and delicious modak created by steaming rice flour with carrot and sweetened moong dal within. In addition to Ganesh Chaturthi, special events might also call for making carrot moong dal modak because it is healthy.
Ingredients
For the outer dough:
1/2 cup rice flour
salt to taste
water as needed
For inner stuffing:
1/4 cup

 

Naturefest moong dal
1/4 cup + 2 tbsp cane sugar
1/4 cup water
1/4 cup carrot
a pinch of cardamom powder
Instructions
Naturefest Moong dal

 

is first dry-roasted till golden, then pressure-cooked for 3–4 whistles with 1 cup of water, or until mushy.
Put it aside after thoroughly mashing it. Grated carrots are added and sauteed in a pan while the ghee is heated.
When you combine sugar and mashed dal, the mixture will become sticky. Continue to cook over medium-low heat.
Add the powdered cardamom and keep cooking until thick.
once everyone turns their lights out simultaneously. Allow it to cool.
To give the modaks the ideal form, you can use a mould for creating them.
Use ghee or oil to grease the mould. Place a ball the size of lemon within the mould.
Make a hole in the middle and fill it with stuffing. With the dough, seal the bottom portion.
Open and de-mould gently. On a dish, arrange the modaks.
Place them on the steamer plate after greasing them. Modaks should be steam cooked for 8 to 10 minutes, or until glossy. Serve the hot carrot moong dal!
The South Indian equivalent of kheer, payasam, use milk or coconut milk as one of its primary ingredients. The delectable payasam type cooked with coconut milk, chana dal, jaggery, and cardamom powder is known as Kadalai paruppu payasam or chana dal payasam. Serve chana dal payasam warm, cold, or hot. Once payasam reaches room temperature, it may be refrigerated.
Ingredients
for pressure cooking chana dal
½ cup

 

Naturefest chana dal

 

or 100 grams chana dal (husked and split Bengal gram)
1 cup of water to be added to the pan containing chana dal
1.5 cups water to be added to the pressure cooker
other ingredients
½ cup thin coconut milk or second or third extract of coconut milk or water
¾ cup jaggery powder or grated jaggery
1 cup thick coconut milk or first extract, 250 ml
2 tablespoons coconut oil or ghee
12 to 15 cashews
1 tablespoon raisins
½ teaspoon cardamom powder or seeds of 4 to 5 green cardamoms, crushed.
Instructions
cooking chana dal
After giving ½ a cup of Naturefest chana dal a few thorough rinses in water, soak it for two to three hours. Even better, you can pressure cook after soaking for 30 minutes. More time spent soaking cuts down on cooking time. You can also simply pressure cook the chana dal.
After that, completely drain the chana dal that has been soaked.
In a pan or other container that will fit inside the pressure cooker, place the chana dal. Add 1 cup of water as well.
The pressure cooker needs 1.5 cups of water. Put this pan or vessel inside the pressure cooker after that.
On a medium flame, pressure cook the soaked chana dal for 4 to 5 whistles, or for 9 to 10 minutes. If you're cooking the dal under pressure, you should cook it for 5 to 6 whistles, or 10 to 12 minutes.
The chana dal can also be prepared in the cooker directly; in this case, add 1.5 cups of water to the chana dal before pressure cooking. However, it will take more time to cook the chana dal in a pan.
Remove the pressure cooker's lid when the pressure has naturally decreased and check the chana dal. The dal must be thoroughly cooked.
If the chana dal isn't fully cooked, add more water to the dal and continue cooking it in the pressure cooker until it is. However, don't overcook. The chana dal shouldn't be lumpy or overly pasty.
Making chana dal payasam
Place the entire contents of the small container in a different pan.
Take a spoon and mash the chana dal.
Add 1/2 cup of the milky coconut. Water can be used in place of thinned coconut milk.
Add 34 cups of jaggery powder next. Add 12 cups of grated jaggery or jaggery powder and stir well for a less sweet flavour.
Heat this mixture in the pan or Kadai on the stovetop over a low flame. Jaggery will dissolve if you thoroughly mix and stir.
One cup of thick coconut milk should be added once all the jaggery has dissolved.
Mix thoroughly, then warm gently for one or two minutes. Put the flame out and set it aside. Coconut milk may curdle if you boil or overheat food.
Tempering for chana dal payasam
Heat two tablespoons of coconut oil or ghee in a small pan or tadka pan. Put in 12 to 15 cashews. Fry the cashews until they start to turn golden.
Add one tablespoon of raisins and one-half teaspoon of cardamom powder once the cashews begin to turn golden.
Raisins should be fried until they swell and plump.
Pour all of the ingredients from the tadka pan—coconut oil, cashews, and raisins—into the chana dal payasam at this time.
Serve the chana dal payasam hot, warm, or chilled after thoroughly blending. Once payasam has reached room temperature, it can be refrigerated.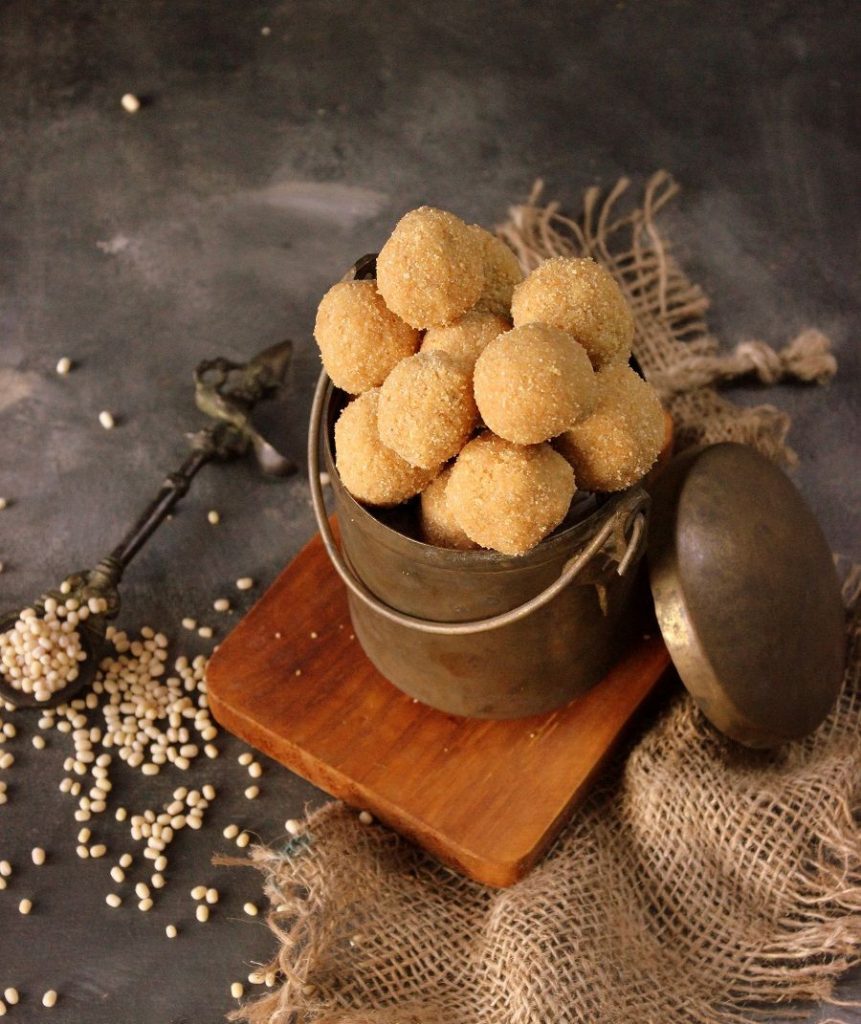 Sunnundalu or Urad Dal Laddu from the Andhra Cuisine is genuinely one of the best ladoo varieties that are made with various dals. Urad dal, ghee, and sugar are all that is required to make the Sunnundalu recipe. When you suddenly get a craving for a snack, the unusual Urad Dal Laddu is ideal!
Ingredients
230 grams

 

Naturefest urad dal

 

or 1 cup urad dal (black gram) – hulled and split
70 grams raw sugar or ⅓ cup sugar, can use regular sugar
80 grams Ghee or ⅓ cup ghee at room temperature
3 to 4 green cardamoms
Instructions 
Roasting and preparing urad dal flour
On a low flame, warm up a pan with a thick bottom. Then pour in 1 cup of urad dal. You can rinse the urad dal first if you'd like. The dal can be spread out on a plate, tray, or cloth. Dal can be dried naturally or in the sun. Add the dal to the pan once it has dried. You can also add directly if you'd like.
Roast the dal while maintaining low heat.
While roasting, stir frequently. To ensure even browning and cooking, continue roasting and stirring.
It's crucial to thoroughly roast the urad dal. Insufficiently roasted urad dal can cause stomach pain.
The dal must become fragrant and golden.
As soon as the dal starts to turn a light golden colour, continue stirring continuously.
When the urad dal turns golden, you can either remove it to a plate to cool or let it cool in the pan itself.
Put the urad dal in a grinder jar once it has warmed up or cooled down. Include the seeds fro (m three to four green cardamom pods as well. Until a fine flour forms. It ought to be floury and have a fine texture.
Now take the finely ground urad dal flour. Start sifting the flour onto a plate, tray, big bowl, or pan.
Set aside the sifted urad dal flour.
Grinding sugar
In the same grinder, add the sugar.
Grind sugar to a fine powder.
Making Sunnundalu (Urad Dal Laddo)
Now add the powdered sugar to the urad dal flour. You can even sift the sugar before adding it if you'd like. Mix thoroughly.
In a pan, start to melt ghee. The ghee needs to be melted, not heated.
When adding nuts or dry fruits, you can do so at this stage by adding some sliced or chopped dry fruits and cooking them in ghee until they turn light golden.
To the urad dal and sugar mixture, add the melted ghee.
With a spoon, thoroughly mix.
The sunnundalu mixture will be somewhat fluid and have a molten consistency after mixing. Let the ghee solidify by allowing the mixture to cool to room temperature.
The mixture can be easily formed into laddus once it has reached a dense state.
Make urad dal laddus that are small to medium-sized. As you shape the laddus, they will become softer from the warmth of your hands.
Use all of the mixtures to make the remaining sunnundalu in the same manner.
Sunnundalu can even be served to your family or offered to the gods as naivedyam.
Refrigerate the leftover Sunnundalu or Urad Dal Laddu in an airtight container.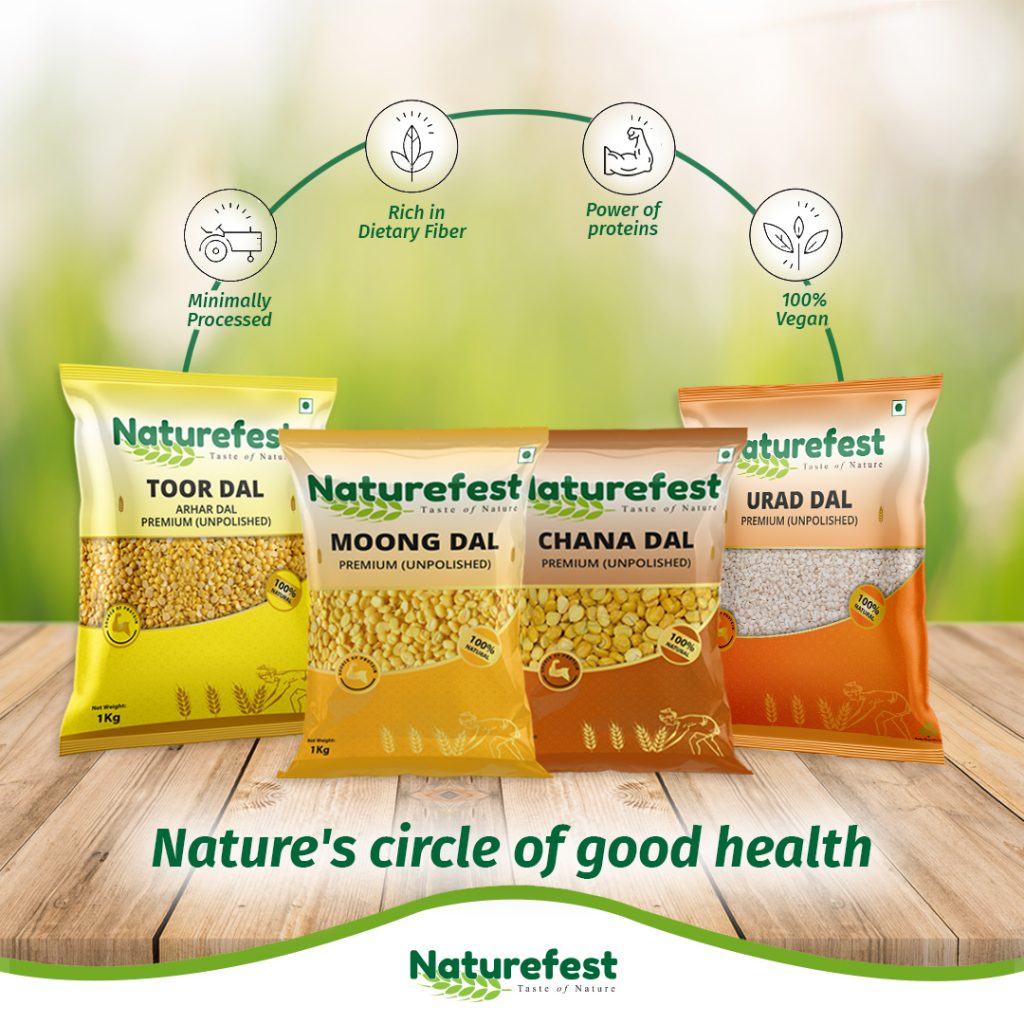 Just go shopping and pick our
 

Naturefest dals

 

and make the above-mentioned desserts with dal and enjoy it with your family and enjoy your Ganesh Chaturthi celebrations.
If you make any of the above-mentioned recipes don't forget to post a picture of the same on Instagram and tag
 

Naturefest. We will re-post them on our page.