We all know that diet and lifestyle are super important and have a huge influence on our health and happiness, but where do snacks come into this? Healthy snacks are a great addition to any healthy lifestyle to help optimize nutrition and provide satisfaction between meals! Forget guilty pleasure, there's no guilt in snacking as long as you choose the right foods! Read on to discover more about the benefits of healthy snacking. 
Snacks: Guilty Pleasure or Nutritional Powerhouse?
Over the years, snacks have been dubbed a guilty pleasure and undeservedly given a bad reputation. Snacks by their very nature should be ready-made, ready-to-eat and convenient and compact enough to transport. Because of this, many of the foods we think of when hearing the word snack conjure up images of unhealthier choices – crisps and chocolate we are looking at you! 
But in more recent times, the snack has been reinvented in light of our greater understanding of the impact of diet on health. Over the past decade we've seen sweets and treats removed and replaced with healthier snack options, saving the less-healthy foods for an occasional treat. So, in answer to the above question a snack can be a guilty pleasure or a nutritional powerhouse – it all depends on which snacks you choose! 
Resisting the urge to reach for a burger, candy, or chips when you're hit with a snack attack can make a big difference in your health — regardless of your age. Even though snacking has developed a "bad image," snacks can be an important part of your diet. They can provide energy in the middle of the day or when you exercise. A healthy snack between meals can also decrease your hunger and keep you from overeating at meal time.
There are many snacks to choose from, and certainly not all snacks are healthy or will help you manage your weight. Try to limit the unhealthy snacks you bring into the house. If they are not available, you are more likely to make healthy choices.
The Amazing Benefits of Healthy Snacking
A healthy snack should be natural, low in sugar, made using 100% natural, real food ingredients and free from any hidden nasties such as artificial colors and flavorings. Choosing a healthy snack follows the same common-sense approach as choosing a healthy meal – so if it has an ingredients list as long as your arm you should probably look elsewhere! 
Once you've ticked all of these boxes and found the right food for you, incorporating healthy snacks into your everyday has several key benefits. Here's just some of our favorites.
1. Helps Boost Metabolism: Eating little and often and avoiding going for long periods of time with no food helps to boost your metabolism. So, a healthy snack between meals can help to keep your engine running as efficiently as possible – instead of becoming sluggish and dormant! 
Boosting your metabolism increases something called your metabolic rate, the speed at which you burn calories. This means that snacking can be a really useful tool for those looking to lose weight – contrary to conventional wisdom which would suggest cutting out snacks! 
2. Fuel Your Movement: In the modern world of hustle and bustle the working week is all go – and keeping busy physically and mentally requires a source of fuel. Choosing healthy snacks between meals tops up your energy levels and helps to fuel your hectic lifestyle. 
Whether your movement is an incidental consequence of a busy day or a planned workout, snacking between meals ensures a constant source of energy that can fuel your exercise and keep you going further for longer. 
3. Helps to Banish Carvings: We all get cravings, whether we're on a diet or not. They come when we haven't eaten in a while and so our innate survival mode craves the most energy-dense foods – to get the most calories as quickly as possible. That's why we crave chocolate and not cucumbers! Having snacks between meals can help to banish cravings  before they hit. 
Snacking not only reduces the time we go without eating but it also gives you nutrients between meals that will keep you energized and satisfied. When it comes to choosing that meal later in the day, you're more likely to pick a healthier option if you're not starving hungry! That's just another reason why snacks should be added to your day – not avoided. 
4. Optimize Nutrition: Our bodies are clever machines, they tell us when we're hungry and thirsty so that we get the hydration and nutrition we need every day. But snacking on sugar-laden foods and slurping fizzy pop can confuse the body – we get the energy we need from calories and so are full and satisfied but we don't get any of the vitamins, minerals, protein or healthy fat that we need to stay healthy. 
Adding healthy snacks between meals tops up your levels of key nutrients throughout the day, helping to bridge the gap between diet and requirements and so optimize nutritional status.
5. They Taste Great!: Last but certainly not least, healthy snacks can – and should – taste amazing! When we created our range of healthy seed-based snacks we vowed to never compromise on taste and satisfaction. Using the finest ingredients and tailored recipes means that our snacks taste as good as they are for you! 
So, if a healthy snack can tick all the boxes on taste, nutrition and healthful benefits – there's really no reason to go for anything less than healthy when it comes to snacking.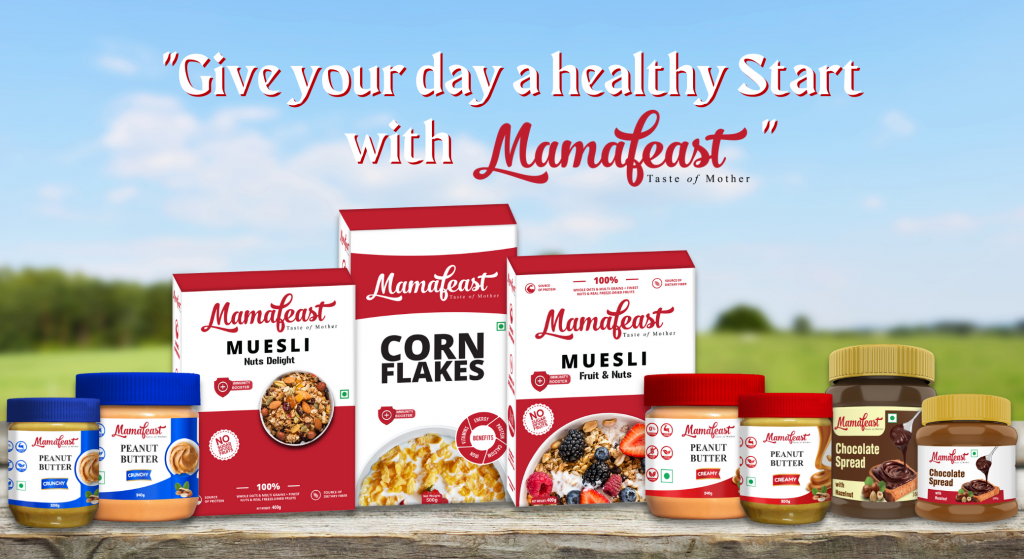 The house of Mamafeast has brought to you a range of products that are perfect for your healthy snacking. This range i made with the finest of ingredients that are very good for your overall healthy. These are healthy, tasty, filling and will provide you with the required nutrition.
Adding for you recipes that you can make using the Mamafeast range of products. These recipes are easy to make and don't require much of your time as well. Do give these amazing recipes a try and replace your snacks with these healthy snacks and see the visible difference in your health.
Chocolate – Cornflakes Milkshake
Ingredients Required
Mamafeast Cornflakes
Mamafeast Chocolate spread
Milk
sugar
coco powder
Recipe
Grind some Mamafeast Cornflakes into thin powder. In a mixing bowl add cold milk, sugar, coco powder ad whisk till frothy and thick. Pour this into a glass and garnish with some Mamafeast crispy Cornflakes, Mamafeast Chocolate Spread.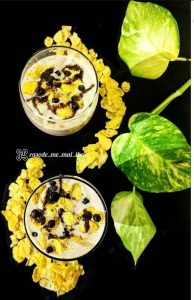 Mamafeast Muesli is available in 2 varieties. Fruit and Nut and Nut Delight. Both the variants are very tasty and healthy and can be just powered into a bowl and can be eaten anytime just like that or with hot or cold milk.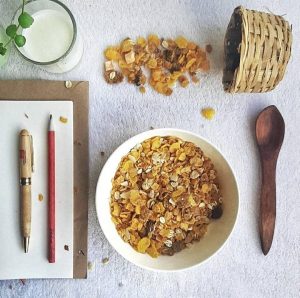 Try out this easy recipe of Peanut Butter and Jam Sandwich recipe using Mamafeast Peanut Butter.